Physiotherapist, Mgr. Zuzana Stevenson
Private Physical Therapy Practice and Rehabilitation
Mgr. ZUZANA STEVENSON
Registered physiotherapist of MZCR: 024-0002-5188
Appointments at +420 724 233 226
More question contact: zu.stevenson@gmail.com
Neck pain, headache, migraines
Lower back pain, discopathy
Scoliosis, faulty posture
Foot care, Achilles problems, heel pain, plantar fasciitis, hallux valgus (bunion), flat foot
Tendinitis, tennis elbow, groin pain
Joint pain, frozen shoulder, arthritis
Muscle imbalance, musculoskeletal injuries, muscle weakness
Pregnancy and postpartum problems, pelvic floor strengthening
Sport and work related problems (overloading, long term sitting, stress)
Postoperative physical therapy, scar care, quick mobility recovery
Sport related injuries, movement analysis
Short notice appointments avaliable
No doctor referral needed
Insurance not accepted (no procedure or time limitation)
Bonus employer program available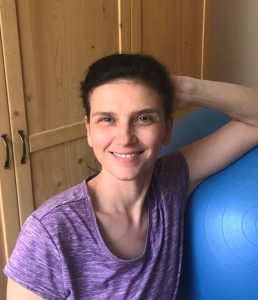 Acute care
ordering up to 24 hours, acute spinal pain, headache, long-term overload injuries, sports injuries, acute spine blockages, intervertebral disc stumps, ankle sprains, painful arm, postoperative rehabilitation, etc.
Chronic problems
timely ordering, careful examination, holistic approach, problem solving complex and tailored, elimination of the cause of the problem, prolonged spine pain, abdominal pain (entezopathy), muscular dysbalance, faulty posture, orthopedic and neurological conditions, etc.
After a bad experience with a therapist, we finally found the best in Veronica. Not only is she an expert in her field. She is respectful and kind, making me feel at absolute ease. Thank you!
I contacted Veronica due to my long term back pain. Veronica was excellent! After 3 months I am finally walking again without pain. Next step is to take on tough mudder. Thanks Veronica!
Veronica have gone far beyond what is expected from a professional physiotherapist. I am now living a healthy pain free life and I owe absolutely everything to the team at Veronica.
I used to be in severe pain after a 10 minute walk. Well not now! After my sessions with Veronica on a regular basis for 18 months I am now extremely happy to say I am pain free.
I recommend Veronica and her team for their physiotherapy services. A completely honest, reliable and knowledgable team of therapists who treat their clients like friends.
Veronica and her team have been a bunch of little gems. They've completely erased my neck pain. I would have no hesitation what so ever in recommending them to friends and family.